It's that time of year again! Cue pumpkin picking, spiked apple cider, vibrant autumn foliage…and, of course, jealousy-inducing fall engagement photos.
From historical parks and famous museums to waterside hotspots and spooky cemeteries, we spoke with 11 local wedding photographers to bring you the best inspo for places to shoot your fall engagement photos (plus some wedding ones, too!) And, if you aren't in love with any of these spots, just consult our awesome lists of local pumpkin patches, apple orchards, corn mazes, and great information about peak fall foliage for more ideas for great fall engagements photos.
Valley Forge National Historical Park
Photograph by The Hursts & Co.
"We love this park and with all the beautiful colors changing in the fall, it makes for a perfect sunset spot! The park is large and it's easy to feel completely secluded while the city rushes around you, which is why we suggest this location for our couples." — The Hursts & Co.
Tyler State Park
Awbury Arboretum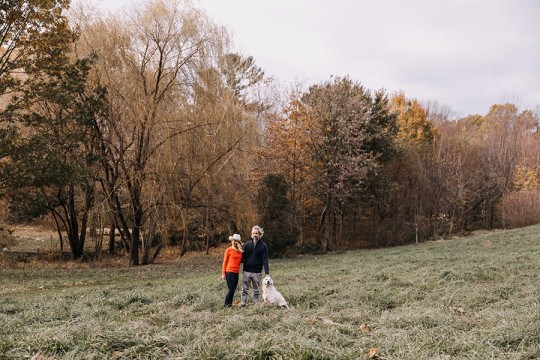 "Awbury is a hidden gem in Germantown, Philadelphia. I love shooting here because it is easy to get to, in the city, open to the public, and features so many great backdrops for a seasonal shoot.  I could spend all day here (and have!) just exploring the grounds and identifying all of the plants. Go at sunset for the best light!" — Love Me Do Photography
PHS Pop Up Beer Gardens
"We love using PHS Pop Up Gardens for engagement sessions in the fall. The gardens are thoughtfully designed and have a fun, relaxed atmosphere. Plus, a round of pumpkin beers helps everyone feel more comfortable in front of the camera." — Sweetwater Portraits
The Mütter Museum